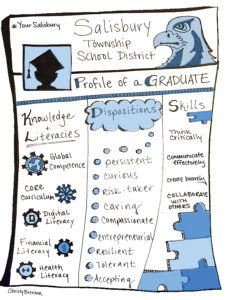 During the 2015-16 school year, we in the Salisbury Township School District engaged stakeholders in a year-long visioning process driven by two questions:
What are the skills, knowledge/literacies and dispositions our graduates will need to be successful?
What kinds of learning environments will best foster the development of these competencies and qualities?
We engaged with groups of stakeholders across the year and in different ways. Learn more about the details of the process in this interview with Dr. Rod Berger on EdCircuit .
Experts and thought leaders were also engaged in conversations around educational innovations through the TLTalkRadio podcast. Over the course of the year, we interviewed 35 experts and tapped into their wisdom, informing conversations with stakeholders and the final outcome of the visioning work.
Outcome of the Process
The final products of this work – our organizational vision for learning in the classroom – are the Profile of A Graduate and Beliefs About Learning. Full-size sketches can be accessed here.
Profile of A Graduate
Beliefs About Learning
Our learning beliefs are organized around the 5-pillar "north star" developed by Education Reimagined in their recent white paper, A Transformational Vision for Education in the US.
What's next?
Our work this year through professional development will focus on the first steps in developing a common understanding of the components of the profile and learning beliefs. Building the capacity for change in our principals and teacher leaders will be a major focus through #YourSalisbury, a professional learning initiative similar to last year's Innovate Salisbury. School leaders and teacher leaders will design and implement building-specific action plans supportive of the new Profile and Learning Beliefs. Central office staff will be there every step of the way to support the building level work.
The conversations around resources and initiatives (new and old) will also change, anchored in these two questions:
How does/will the resource, activity, initiative, etc. move us closer to our vision?
How might the learning environments we create in our classrooms, our schools and our community provide opportunities for learners to develop competency in the components of the profile?
We know that achieving this vision will take time, and it will most certainly be messy at times! By anchoring our conversations in the above questions about what we do for learners, we will move closer to that vision and ultimately do the best work for our learners.